A complete UX and UI redesign of the most popular and used utility for Virtual Reality.
OVR Toolkit is a very powerful tool with a lot of options and features, (un)fortunately, it is also its downfall. New and new features are being developed and the whole UI was getting really clunky and messy. Some elements looked really outdated and the whole user experience just wasn't the best. To add insult to the injury, there was a new competitor coming out around the corner with way better UX and UI and we had less than two weeks to design and implement all new features.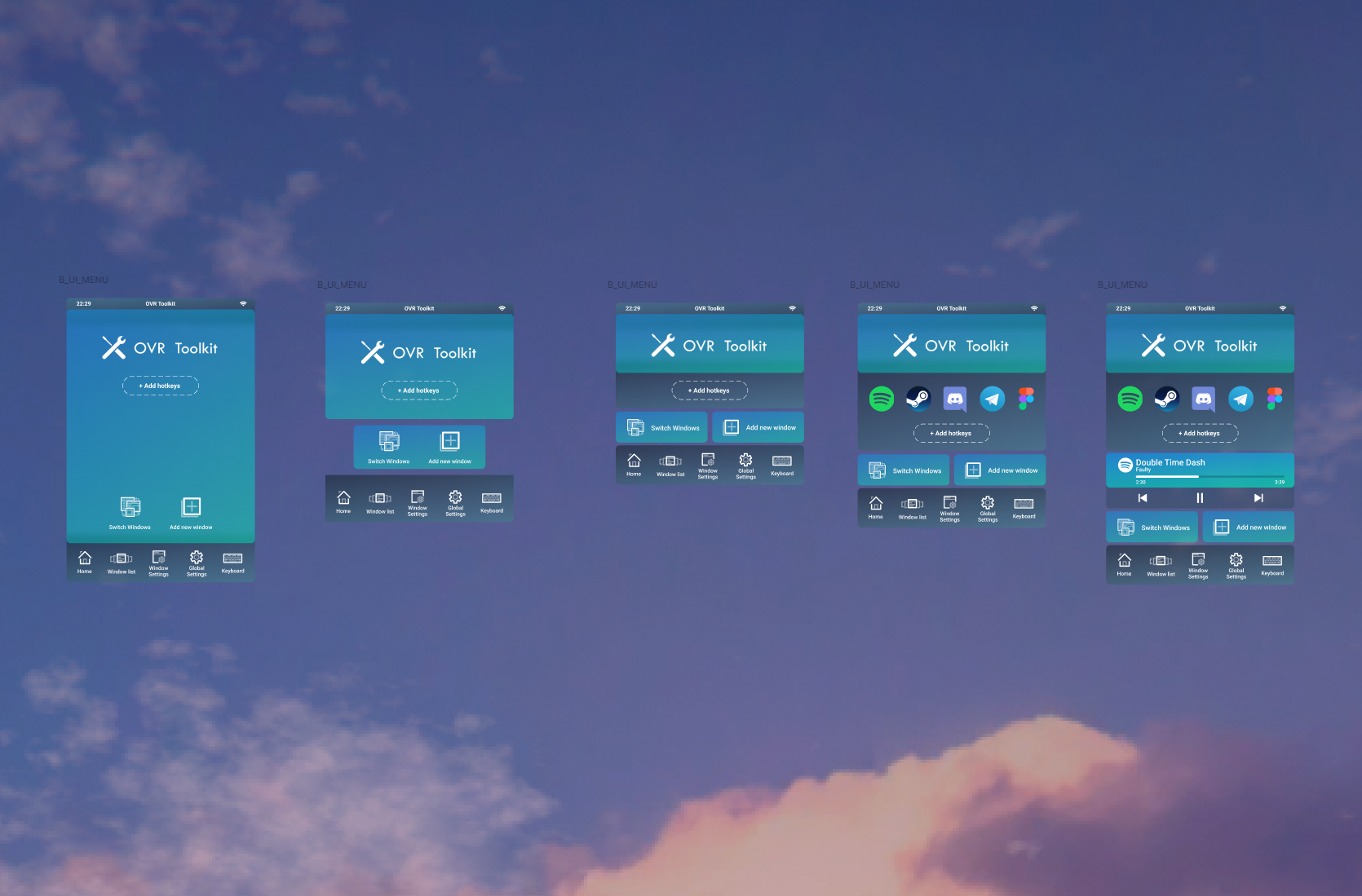 Because OVR Toolkit didn't have any data for usage we had to do a lot of research, feedback gathering and UX testing to ensure that the final product will be perfectly tailored to the main userbase. So, obviously, we did exactly that. 🙂
The whole redesign had to be done in less than two weeks so we quickly created a fast and agile process and selected the biggest issues with the current UI to redesign. The whole app was redesigned from the ground up but with minimal changes to the backend to ensure that the product will be out and ready before OVRs biggest competitor.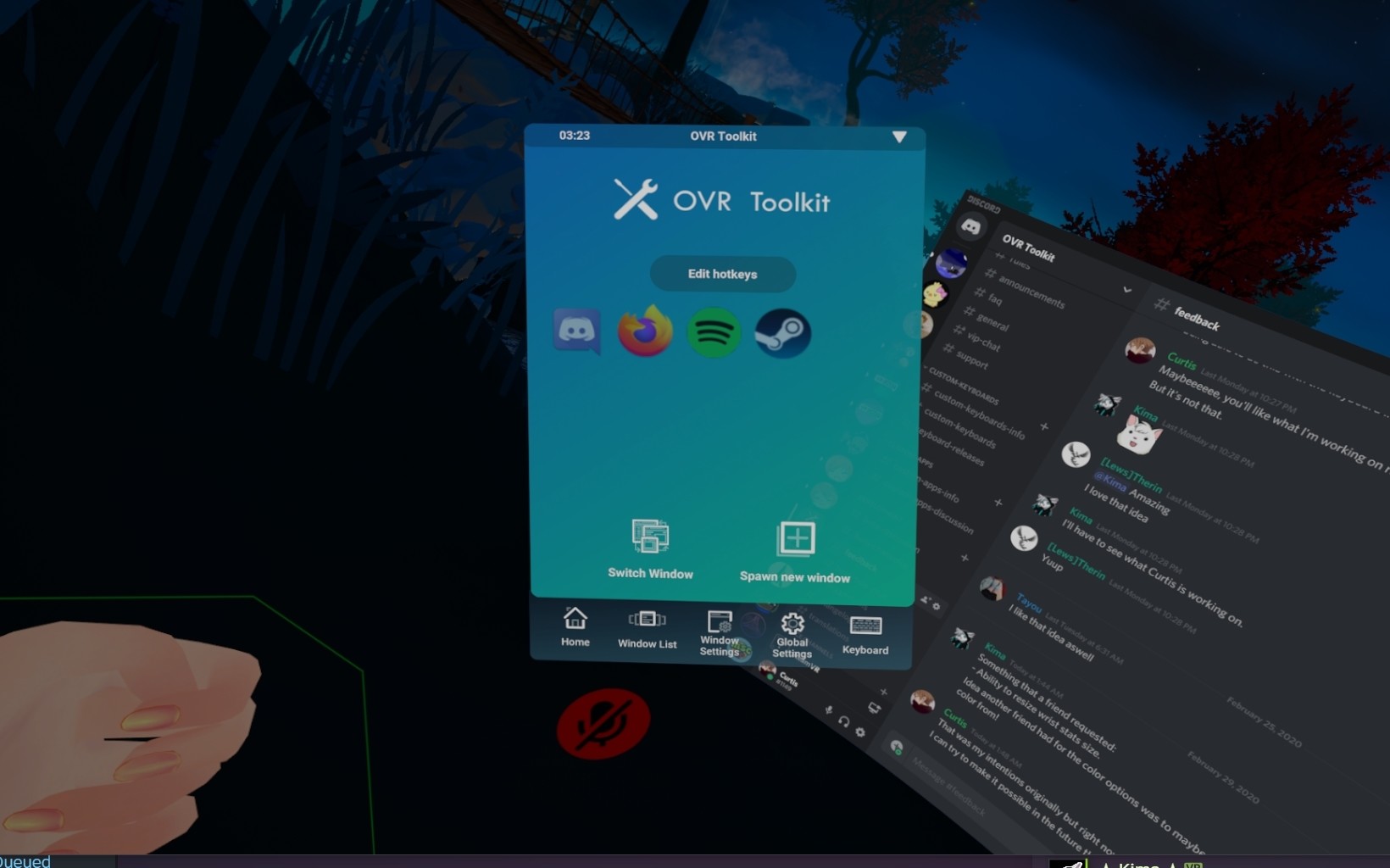 Modular wrist watch design
An important part of the design was creating a modular and extremely customizable interface for VR users so the whole design is based on "content blocks" that can be turned off or on at any time without leaving VR.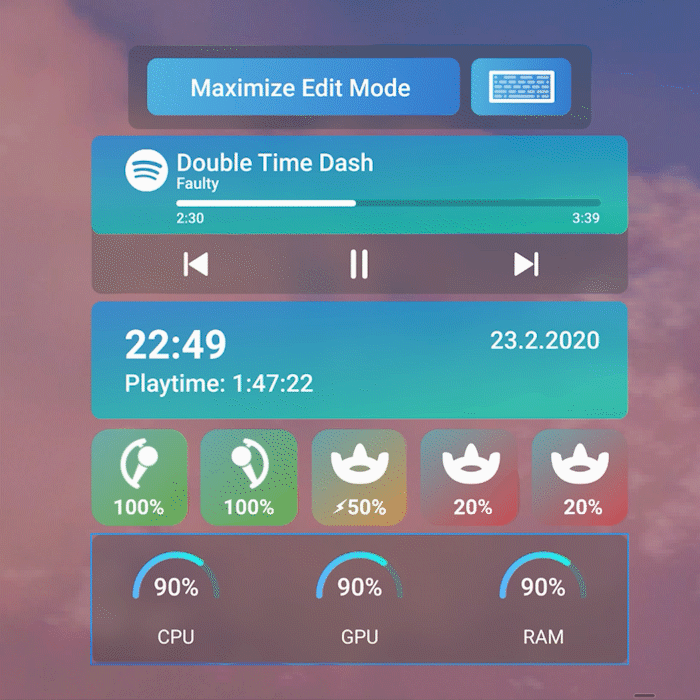 VR users are usually really difficult to satisfy and we needed to make this app for everyone so we also created a lot of different themes that can be changed in OVR instantly. Usability is a huge thing in VR by the nature of it not mentioning totally different interaction than on a normal website or mobile app. Specialy in VR it became even more challenging because of a lot of different VR headsets that are on the market with different resolutions, display technologies, fields of view, colors, tracking systems and controls. Thankfully everything was tested several times on many devices to ensure that the usability will be top-notch.
Some user reviews regarding the new UX and UI 🙂
They've been putting some damn fine work. The latest update is amazing. Basically everything I could want from a VR overlay program.
– ActualKiwi
Switched from OVR Drop. Much faster and easy to setup new windows and configure in your liking.
I recommend even if you will not use for stream/contet creating, This is a "life improvement" in general for VR
– TocaFita
Definitely do not regret this purchase. Have been using this for a little bit now and feel a review is justified. This piece of software has made my VR experience 100x better! It is super easy to manage everything on your desktop all straight from VR without actually having to take off that headset just to work around on said desktop.
I have two monitors and this piece of software has made my experience with the HTC Vive way easier and more manageable. I highly recommend this if you can get it!
– Ezekiel
Honestly a must have for any VR user. Being able to put whatever window from any screen on my screen anywhere is awesome! Plus it is relatively simple to set up, and the updates have just been making it a better and greater software.
– SchnoogerDip
This tool is really great and very professionally implemented. I wonder how I survived without it for such a long time. In my opinion, this should be an integrated part of the Steam Home.
– JeltzProstetnic
I've tried so many products that try to emulate what this software nails so goddamn excellently, with continued updates and a damn innovative approach, this program genuinely changes the way I live in VR.
– Yeti
Way better than the old one, so good and so easy. The updates are even better.
– Captain Diggles
This is by far the best OVR solution I've ever used. There so many features and ways to set your windows layout just the way you want. I've had all the support and attention from the devs, something rare and quite amazing these days. Curtis is available all the time on Discord, helping people and the best of all: LISTEING! They are improving every day the software, putting their minds and hearts in it. Please, keep up the good work guys! Cheers!
– ASchneider
Great tool, hugely functional, and now polished and even more functional through recent updates. I'm not sure when it dropped, exactly, but one of the recent updates made this super functional and quite streamlined – honestly probably better than something I'd expect from Valve themselves.
It's already so, so good and absolutely worth the price of admission, but I can't wait to see where the dev takes it. Really wonderful program.
– DarkAegis
Extremely Usefully piece of software. Makes accessing your desktop while in VR a breeze, and super customizable. Especially with the top secret BARREL BOIZ feature! 10/10 would recommend. Barrel Boiz unite!
– YouChube
All reviews available at: https://steamcommunity.com/app/1068820/reviews/
UX/UI, VR Usability and Design
Virtual Reality | UX/UI Design
Figma, Unity, SteamVR, Adobe Comp, Procreate, Hotjar, Google Analytics
Valve Index, HTC Vive, HTC Vive Pro, Windows Mixed Reality (Acer, Samsung, Dell, HP), Oculus Rift, Oculus Quest, Oculus Rift S, Pimax 4K
More Projects
ART • DESIGN • WEB/APP • UX/UI • PHOTO • VIDEO
VR: OVR Toolkit

admin

2020-03-27T02:25:44+01:00

Webdesign: Refresher Market

admin

2018-12-28T20:52:43+01:00

Appdesign: Nozomi Music

admin

2018-12-28T20:52:57+01:00

Appdesign: Pegasi Media

admin

2018-12-28T20:53:14+01:00

Appdesign: GexPay

admin

2018-12-28T20:53:28+01:00

Webdesign: DJ'S COMPANY

admin

2018-12-28T20:53:45+01:00

Webdesign: Kominíček

admin

2018-12-28T20:54:03+01:00
Let's Work Together
TELL ME MORE ABOUT YOUR PROJECT
What do you need? What is your issue? How can I help you? Just tell me. 🙂